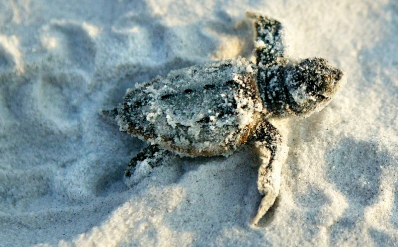 Cape San Blas Vacation Rentals Give You Access
to beautiful outdoor activities, excellent dining, unique shopping, and sightseeing adventures!
TURTLE SEASON:
Turtle season in Gulf County runs from May 1 to October 31. The Cape San Blas beaches are prime nesting grounds for Loggerhead & Greenback turtles. During the 1st half of the season, pregnant sea turtles drag themselves up on the Gulf County beaches to lay their eggs. During the second half of the season, thousands of tiny hatchlings hatch & make their way to the Gulf of Mexico! If you see a square area marked off by warning tape, it's a turtle nest! Please stay clear & keep your dog clear of any turtle nest! If you take a walk in the evening or early morning, you might be lucky enough to see a sea turtle lay her eggs or the eggs hatch.
There are always several nests in & around Barrier Dunes during turtle nesting season.
Seeing sea turtles laying their eggs or seeing the eggs hatch is just one of many great things you can experience at Cape San Blas, FL (note: Never touch a sea turtle nest or egg!)
Inrested in walking with the Turtle Patrol?   See this page of the Florida Coastal Conservancy
Forgotten Coast Sea Turtle Center
George Core Park. 1001 10th Street, Port St. Joe. Open Sunday, Tuesday, and Thursday, 10-4 EST
Come visit the center to learn all about one of GCFL's favorite creatures, the majestic Sea Turtle! The Forgotten Coast Sea Turtle Center is brought to you by the Florida Coastal Conservancy to promote our community's natural beauty and preserve one of its most valuable resources.
Other Cape San Blas Activities You May Like