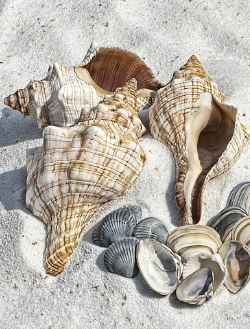 Cape San Blas Vacation Rentals Give You Access
to beautiful outdoor activities, excellent dining, unique shopping, and sightseeing adventures!
Whether you're strolling along the natural shores of St. Joseph Bay, taking a walk on our pristine beaches or exploring the wonders of the Forgotten Coast, you will surely be amazed at the treasures you'll find as you comb Gulf County's unique shorelines. From beautiful driftwood carved uniquely by nature, to the vast variety of bivalves, urchins & mollusk shells, you'll never come back empty-handed. Shelling is 365 days a year in Gulf County and is influenced by the tides, the weather & the seasonal fish.
There are a wide variety of shells and other treasures on both the Cape San Blas beaches and the St. Joseph Bay side of the Cape! A good spot for shelling is right past the stump hole… take your first right after you pass the "stump hole" if you are coming from Barrier Dunes. This area has HUGE shells, especially after a storm! The bayside is also a great place for different shelling treasures!  You can access the bay and beachside inside St. Joseph Peninsula State Park, right outside the gates to Barrier Dunes.
Other Cape San Blas Activities You May Like