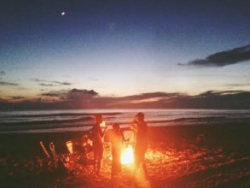 Cape San Blas Vacation Rentals Give You Access
to beautiful outdoor activities, excellent dining, unique shopping, and sightseeing adventures!
Another unique activity you can enjoy on the beach is a beach bonfire.   Be sure to dig a hole for your fire so you "leave no trace" on the beach when you're done.   Bring a firelog to help start the fire (there are no Boy Scouts on the beach).   You can get firewood at the Cape Trading Post, Scallop Cove, or the Piggly Wiggly.  Do be sure to be away from the dunes when you dig your hole.  Great to enjoy after a beautiful Cape sunset.
If you prefer some assistance with your bonfire, you can contact:
Light up Your Night Beach Bonfires 850-323-2691
Other Cape San Blas Activities You May Like