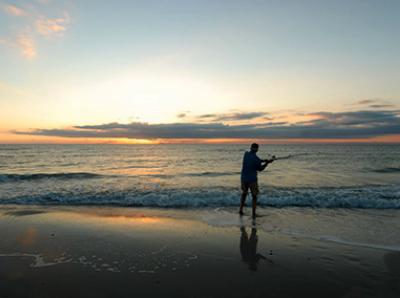 Cape San Blas Vacation Rentals Give You Access
to beautiful outdoor activities, excellent dining, unique shopping, and sightseeing adventures!
There is wonderful fishing in the area—from the shore, from a boat, in the ocean or bay or one of the freshwater ponds in Barrier Dunes! The waters of the Apalachicola  Bay & the Gulf of Mexico from Carrabelle to Mexico Beach are known to be among the richest in marine life in the world due to the nutrients carried down on the Flint, Chattahoochee, Oclocknee, St. Marks & Apalachicola Rivers! What can you catch?
LICENSE INFORMATION:  A Florida Fishing License is required for fishing, whether in the Gulf or the Bay.  You can get one from Scallop Cove on Cape San Blas, just a few miles from Barrier Dunes,  or you can get it online through the Florida Fish and Wildlife Conservation Commission.  The cost is listed on their website.
Fish 'N Xpress 49 Passenger Party Fishing Boat. 850-227-8200
Book Me A Charter  850-653-2622
Fishing Port St. Joe with Captain Gary Goodrich.  850-229-3474.
Cape Sufaris:  304-582-4853
Other Cape San Blas Activities You May Like