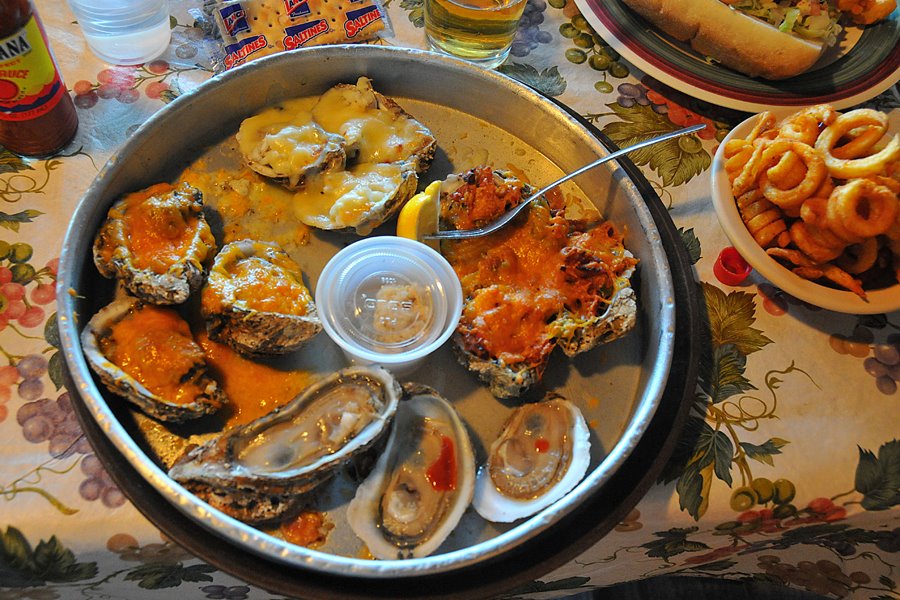 Cape San Blas Vacation Rentals Give You Access
to beautiful outdoor activities, excellent dining, unique shopping, and sightseeing adventures!
CAPE TRADING POST   Breakfast, lunch supper 850-229-8775. On Cape San Blas (beachside).  Full convenience store with everything from meat to beer, wine and liquor. About 3 miles from Barrier Dunes)
Cape Coffee and Ice Cream  Beside the Cape Trading Post.  Ice Cream shop with outdoor seating.
Cat 5 Raw Bar  1937 CR 30A (By Presnell's Marina, next to St. Joe Seafood on 30A)
seafood with a view.
CONEHEADS is located on Cape San Blas .2 miles (a 5-minute walk or short bike ride) from Barrier Dunes. You can enjoy a GREAT burger, oysters & other seafood, dishes…a varied menu includes seafood, salads, and all in between…something for every taste & all good) and desserts.
INDIAN PASS RAW BAR Rt. C-30 227-1670    Enjoy oysters, shrimp, gumbo & more along with a cold beverage (serve yourself) in this iconic restaurant.  Live music many nights.
LONGBILL'S.  Breakfast, lunch, supper.  850-250-4310.  On Cape San Blas.  NEW. 7650 Cape San Blas Road (Bayside by the Firehouse on the N. Cape).  Closed on TUESDAY'S.
The menu includes sandwiches, pizza, pasta, salads, fish tacos, steak, gumbo & lunch baskets. 
PEACHY'S BEACH EATS Dog-friendly Lunch and Dinner (next to the Trading Post on the Gulf Side).  145 Acklins Island Drive.  Enjoy Fish tacos, grouper sandwiches, shrimp & grits & pulled pork sandwiches.  They also serve beer & wine.  Outdoor seating.
SCALLOP COVE   Breakfast, lunch, supper 850-227-7557.   On Cape San Blas (bayside) & close to Barrier Dunes. Call ahead to 850-227-1573 and your order will be waiting on you!
Scallop RePUBlic.  Dog-friendly downstairs (not in the bar)  411 Cape San Blas Road    850-227-9009. Also has live music several days a week, potlucks, and open mic nights.  Feel free to BRING YOUR OWN FOOD.
SKULLY'S LOW COUNTRY BOIL. Dog-friendly On Cape San Blas.  5544 Cape San Blas Road (on the bayside).  850-247-3077.    Has outside seating.
THE SMOKEHOUSE ON CAPE SAN BLAS  980 Cape San Blas Road.  850 331-1011.  House-smoked brisket, fried chicken, pulled pork sandwiches and more
ST. JOE SHRIMP COMPANY.  5025 Cape San Blas Road (next to Cape Trading post.)  850-229-6774. Pick up Fresh Shrimp, Grouper, Oysters, Mahi Mahi, Tuna Lump Crab Meat, Flounder, Amberjack, Crab Claws, Cocktail Claws & great dip to take to your rental & cook or take some home!  Will pack for travel.  They also serve hot lunches.
WEBER'S LIL DONUT SHOP Beside the Cape Trading Post.  Open until the Donuts are gone.
YOUR TABLE! YOUR CHEF!  Why dine out when the chef will come to you.  Chef Ian Williams will come to you and make the creation of your choice, from a classic meal to the outrageously creative.  He can also honor specific dietary restrictions.
Other Cape San Blas Activities You May Like